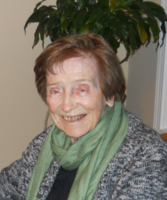 Cecile J. "Ceil" Renzulli
WESTON, CONN.
Cecile Renzulli (Ceil), born July 5, 1918, passed away peacefully Wednesday April 11th, 2018.
Ceil was born in Berlin, New Hampshire to the late Joseph and Blanche LaPointe. She moved to Norwalk in the 1950's where she worked as a physical therapist. She lived most of her adult life in Weston and Westport CT.
Ceil was married to Dominic Renzulli (Dom), who passed away in 2000, and she is preceded in death by her brother Norman LaPointe of Canaan, VT. Ceil will be lovingly remembered by her son Joseph and his wife Donna of Westport, CT; her daughter Carolyn Jaslow and her husband Alan of Memphis TN; her grandchildren Eric Renzulli, Lauren Renzulli, Rob Jaslow, Karen Jaslow and Steve Jaslow. A dedicated aunt, she leaves behind six nieces and nephews, thirteen grand nieces and nephews, and four great-grand nieces and nephews.
Ceil will always be remembered for her positive outlook as well as her generosity of spirit. Her love of children was unsurpassed. Ceil's baked goods and the parties held in their Weston home were legendary. Ceil and Dom were dedicated fans of their children's athletic teams and were founding members of the Weston High School Booster Club. Ceil volunteered at Norwalk Hospital for more than 35 years. She loved attending the Westport Playhouse and the Community Theater, and playing bridge and mahjong every week. Ceil enjoyed spending time at Compo Beach with family and friends. She was a lifelong fan of the Yankees and relished trips to the ballpark.
Family and friends may visit Harding Funeral Home, 210 Post Road East, Westport, CT on Sunday April 15th from 2-6 p.m. A mass of Christian burial will be celebrated on Monday April 16th at 10:00 a.m. in St. Francis of Assisi Church, 35 Norfield Road, Weston CT with interment to follow at Willowbrook Cemetery, 395 Main Street, Westport CT.
In lieu of flowers, donations may be made to Norwalk Hospital or Weston Volunteer EMS.