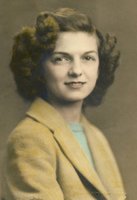 Rosemary A. Andresen
NORWALK, CONN.
Rosemary Andresen, 92, of Norwalk CT passed away peacefully at her home of 60 years on November 24, 2017. Rosemary was the cherished wife of 50 years to the late Elliot R. Andresen who passed away on July 15, 2000. She was born March 8, 1925 in Westport CT as "Rosina Maria" to Carmine and Concetta (Gilberti) Famiglietti. Nicknamed as a youngster by her brother Sebastian, she was known forever after as "Honey" by her friends and family.
Rosemary resided for most of her life in Norwalk. During WWII, she volunteered for the USO entertaining servicemen at veteran's hospitals, as well as working as a junior engineer building amplifiers and microphones for the military. Along with Elliot, friends and family, she helped dig the footings and build the house that became the family home in 1956. It's where Rosemary and Elliot raised their sons Mark, Scott and Keith in a neighborhood filled with friendly neighbors, open yards and the sounds of children playing. She attended Over River, Center Junior and Norwalk High Schools. The caption by her NHS yearbook photo stated "A capable leader and all-around sport" which proved to be true for her entire life. She also attended Famous Artists School, Berkeley Business School for accounting and Katherine Gibbs for business administration.
Rosemary's first priority was always her family. She was Super Mom, assuring a clean and smoothly running home, doing the laundry, handling the paperwork, grocery shopping, helping with homework, patching up cuts and bruises, and preparing homemade healthy and tasty cooking. Without compromising her care for the family, she also helped support the household by part time jobs that included office administration, teachers' aid, customer service and accounting. She was an active and dedicated member of the South Norwalk Boat Club Auxiliary for many years serving multiple terms on the Executive Board ranging from Recording Secretary to President, as well as volunteering to help organize and work at nearly every event. Rosemary was a member of Monsignor Finn Council Non46 as a Columbiette in the Knights of Columbus. She was a Sacristan and counted collections for many years at St. Jerome Parish and frequently volunteered for functions held by the church and school. In her earlier years she was a counselor for the Girl Scouts. Rosemary was a friendly and familiar face volunteering at numerous Fairfield County Red Cross Blood Drives. A Public Service Award from the State of Connecticut for her dedication as a poll worker in local elections was among many she received from various local organizations for her volunteerism.
Rosemary was an accomplished fisherman for much of her life and often was the only one catching fish. She was naturally athletic, excelling in golf, bowling and bocce, and oh how she loved to dance! Rosemary was always willing to try a new activity. She was born with a green thumb and through the years had the most beautiful and natural gardens from which she would often create bouquets of flowers for her friends and family.
Rosemary is survived by her three sons Mark Andresen of Carey, NC, Scott Andresen and wife Suzanne and their son Tyler of West Bath, ME, Keith Andresen and wife Barb of Wilton, CT. She was predeceased by her husband Elliot Andresen, brothers "Lefty" (Sebastian) and Anthony Famiglietti, sisters Connie Faust, Josephine Faust and Louise Pacheco.
Rosemary will always be remembered for her kindness, caring and generosity. She showed her love for family and friends in both words and deeds. Rosemary had a great sense of humor, can-do attitude and had the ability to always see the good in others.
No calling hours are planned. A mass of Christian burial will be celebrated at St. Jerome Church, 23 Half Mile Road, Norwalk, CT, Friday, December 1, 2017 at 10AM.
She will be laid to rest alongside her husband here at Willowbrook Cemetery.
Magner Funeral Home of Norwalk is directing the arrangements.