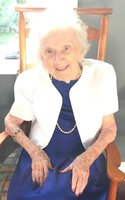 Helen F. Palmer
NORWALK, CONN
Helen Flynn Palmer died peacefully and with dignity on Friday, January 12th, 2018, with her family by her side. The daughter of the late Joseph L. Flynn, Brigette Theresa Russell Flynn and Frances G. Flynn was born in Norwalk, CT on June 4th, 1916. She met the love of her life, Everett Palmer, when they both worked at the Hat Corporation of America, and they were married on July 27th, 1944. They shared 70 wonderful years together until his death September 26th, 2014. Helen's immediate family encompassed 38 people who were blessed with her abundant love and support. Her influence was far-reaching way beyond her family, and she had an impact on countless lives. She enjoyed eating out almost nightly and was vital until three days before her passing. She was able to remain in her own home, cared for lovingly by family.
In addition to her husband, Helen was predeceased by her sister Veronica Trenck, her son-in-law Woody Schempp, and survived by her daughters Carolyn Donohue-Ulman and Bob Ulman, Penny Palmer, and Gail Stone, her grandchildren Tom & Elena Donohue, Kim & Tom Grimm, Kelley & Carlos Sanchez, Shannan Milillo & Ed Monroe, David Milillo, Stephen & Kelly Stone, Dave & Janice Sloane, Maia & Armando Vargas, Rhoby Schempp, David & Selena Weaver, Kristin Pardue, Bryan Cockerham & Erica Martini, Ross Cockerham & Ansley Proctor, Tina Gallo, 22 great grandchildren, and 5 great, great grandchildren.
Her Funeral Mass will be held at 10AM on Tuesday, Jan. 16 at St. Thomas the Apostle Church, Norwalk with burial to follow at Willowbrook Cemetery, Westport. Her family will receive friends on Monday from 4-8 PM at the Magner Funeral Home, 12 Mott Avenue, Norwalk. Memorial donations may be made to: Fairfield County Visiting Nurse and Hospice, PO Box 489 Wilton, CT 06897.