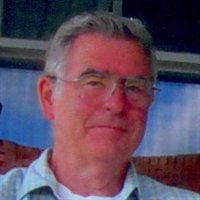 Walter H. Papstein
COLUMBIA, NH
\Walter H. Papstein, 78, passed away on Saturday morning, June 23, 2018, at the Concord VNA Hospice House in Concord, NH, after a period of failing health.

Walt was born on Feb. 6, 1940, in Yonkers, NY, a son to the late Hugo and Victoria (Giray) Papstein, Sr. He was raised in Westport, Conn., and was a 1958 graduate of Staples High School in Westport.

His career began as a customer service representative for Northeast Utilities in Connecticut, the company from which he retired after 38 years of dedicated service. At that time, he and his family moved to their 'farm' on Meriden Hill in 1996. Walt loved to be working around his home, with time spent on his tractor, working the land, and he loved to be out hiking or fishing. A gentle soul, he was also an animal lover. Walt cherished time spent with his granddaughters, especially playing cards.

Walt was a faithful communicant of Sacred Heart Catholic Church.

He is survived by his wife of 58 years, Susan (Horosky) Papstein of Columbia; his three children, Steven (Kathleen) Papstein of Wilton, Conn., William (Jacalyn) Papstein of Westport, Conn., and Melinda (Bryan) Williams of Westport; his twin sister, Barbara Schomburg of Columbia; a brother, Hugo Papstein of Eureka, Calif.; three granddaughters, Kelsey R. Papstein of Denver, Colo., Madalyn Papstein of Boston, Mass., and Evelyn Papstein of Westport; as well as nieces and nephews.

There are no public calling hours. A memorial Mass will be held at the Sacred Heart Church in North Stratford on Saturday, July 14, 2018, at 11 a.m., with The Rev. Daniel Deveau as celebrant.
Interment was held on August 04, 2018 here in Willowbrook Cemetery, Westport.

Expressions of sympathy in memory of Mr. Papstein may be made to the St. Marguerite d'Youville Parish, for the benefit of Sacred Heart Church, 11 State St., Groveton, NH 03582; or to the North Country Community Recreation Center, 33 Rec Center Rd., Colebrook, NH 03576.