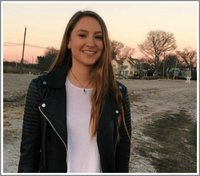 Rachel Hope Doran
WESTPORT, CONN
Rachel Hope Doran, a rising senior at Cornell University and lifelong resident of Westport, died Friday, August 17, 2018 after being stricken ill. She was 21.
Rachel was a National Merit Commended Scholar, talented Players costume designer, and founder of "Rachel's Rags," a company that makes intricate cotton and fleece pajama tops and bottoms.
In July she was diagnosed with Stevens Johnson Syndrome and Toxic Epidermal Necrolysis, a rare reaction to common medications that resulted in severe burns to 95% of her body. She then developed Adult Respiratory Distress Syndrome — another rare and life-threatening syndrome.
Friday night — surrounded by her family — Rachel died peacefully. Her family said:
"True to Rachel's spirit and with the same fervor she had for everything she took on, she fought the most difficult health issues with tenacity and grace.
At this time Alan, Lisa and Ellie ask that you keep Rachel's memory close to your hearts as arrangements are made to celebrate her amazing life. Her beauty, kindness, style and wit were second to none. We will cherish the light she brought to so many people along the way."
Rachel's funeral service will be held on Wednesday, August 22, 2018 at 12:00PM at Temple Israel, 14 Coleytown Road, Westport. Interment will be held privately here in Willowbrook Cemetery.
The Thomas M. Gallagher Funeral Home of Shippan Point, Stamford is directing the arrangements.
Credit: Dan Woog; 06880danwoog.com