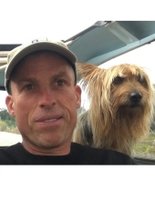 Colin A. Bronson
FAIRFIELD, CONN
Colin Bronson died peacefully on February 14th, 2019 at St. Vincent's Hospital with his loving siblings by his side after a brief but valiant battle against cancer. He was 55.

He was born on August 15, 1963 in The Hague, Holland to his parents, Josephine and Howard Bronson. He moved to Westport at age 10 with his family and spent many happy years living on East Ferry Lane. Colin graduated from Staples in 1981.

He established a thriving career as an independent entrepreneur in Westport and then in Fairfield. He had the knowledge to repair sophisticated X-ray machines for doctors, dentists and veterinarians without ever going to technical school. At a young age he taught himself about ham radios, stereos, and CBs. He was widely known to be the man to call on if you had a problem with anything in the electronic field.

Colin was a volunteer usher at Westport Country Playhouse for several decades. His numerous activities also included ushering at the Fairfield Theatre Company and the Klein.

Colin was ardently devoted to a range of health & wellness pursuits. He was a vegan for many years. He was an active participant in Fairfield's various yoga classes and meditation groups.

Colin Bronson was a true original. His trips down the Post Road in his open-topped antique car with his dog in the passenger seat brought joy to many Fairfielders.

He is survived by his sister Michele Bronson and her husband Richard Baudisch of Newtown; his brother William Bronson and his wife Jennifer of Orange; his nephews Charlie, Jake, and Mitchell Bronson; his niece Emily Bronson; his girlfriend Johanna Korby, his many friends, and his dog Sprout. He was predeceased by his parents.

Friends are invited to a graveside service on Monday, February 18, 2019 at 11 AM at Willowbrook Cemetery, 248 Main Street in Westport and will be welcomed at a lunch/afternoon open house following the funeral service at the McCarthy Residence, 4 Surrey Lane in Westport.
The Shaughnessey-Banks Funeral Home of Fairifeld is directing the arrangements.