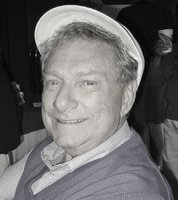 Donald Sappern
BRIDGEPORT, CONN.

Donald Sappern, formerly of Westport, Norwalk and Stamford, CT died surrounded by his loving family on September 14, 2017. He was 89 years old.
Donald is survived by his devoted wife, Judith Portner Sappern and his children, Laurie Sappern Gaugler and her husband Dean of Fairfield, CT, Adam and his wife Margot Sappern of Bethel, VT and Matthew and his wife Rianne Sappern of Fairfield, CT. Donald's seven grandchildren, Billy, Chloe, Brian, Geoffrey, Rachel, Carly and Tobey gave him endless joy. He was preceded in death by his brother Yale Sappern, whose wife Pat Sappern remained his adoring sister-in-law.
Donald was born on July 28, 1928 to Sally and William Sappern in Stamford, CT. He attended Stamford High School where his love of performing jazz piano blossomed. He formed a popular 5-piece jazz band and wrote lyrics and music for several school plays during his time at Stamford High. Donald's pure joy was sharing his knowledge of music with his children and grandchildren.
In 1949, Donald graduated from the University of Connecticut, his proud family's first college graduate. He played in a number of jazz bands throughout his college career. After college, Donald earned a graduate degree from Simmons College before serving in the army.
He was introduced by mutual friends to Judy Portner whom he married in 1954 and with whom he enjoyed a wonderful family life for the next 63 years. An entrepreneur at heart, he formed Donald Sappern & Company and became one of the region's most well-known and trusted insurance agents.
Besides jazz music, Donald's passions were his family, golf and his friends. His wife, children (including the dog Danny) and grandchildren were his favorite pastimes. He was a beloved Little League coach and a founding member and Past President of Rolling Hills Country Club in Wilton, CT. Donald was a lifelong friend whom people loved to be around. His brand was a rare combination of caring, charisma and a fabulous sense of humor that he shared with the world.
Funeral services were held on Sunday September 17, 2017 at The Abraham L. Green and Son Funeral Home in Fairfield with interment at Willowbrook Cemetery in Westport.
Memorial contributions made to the Children's Glaucoma Foundation, 2 Longfellow Place, Suite 201, Boston, MA 02114 or www.childrensglaucoma.org/support/.