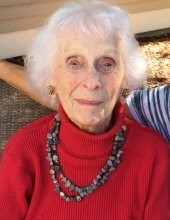 Obituary of Laura Richeson
Formerly of Fairfield
Laura Pemberton Richeson, age 95, of Shelton, formerly of Fairfield, passed away peacefully on Wednesday, August 23, 2017 in Stratford, surrounded by her loving family. Born in Palmer, Nebraska, she was a resident of Fairfield since 1942 and resided there until 2014.

Laura graduated from Palmer High School and attended Kearney State Teacher's College. A wonderful wife and mother, family was the center of her life. She was a strong and determined woman who made many friends, because she always gave of herself. In addition to being a homemaker, Laura worked for several years at various area firms including, General Electric, Aerosol Techniques and The Bullard Company. Her hobbies included sewing, baking and delighting in her great grandchildren.

She is survived by her loving daughter, Linda Baldwin of Shelton, her three grandchildren, Michael (Katherine) Baldwin of Wilton, Laura (Chris) Kinder of New Canaan and Dr. Robert Richeson of Ridgefield, and her six great grandchildren, Thomas and Abigail Baldwin, James and Adeline Kinder and Robert and Justin Richeson. She was predeceased by her husband, Donald, her son, Robert, her son-in-law, James Baldwin, her daughter-in-law, Irene Richeson and her two sisters, Edna Pemberton and Edith Binder.

At the request of Mrs. Richeson, funeral services were private.
Laura was buried here at Willowbrook Cemetery in the family plot.
Memorial contributions may be made in her name to Doctors Without Borders USA, P.O. Box 5030, Hagerstown, MD 21741.
The Shaughnessey-Banks Funeral Home of Fairfield directed the arrangements.