Recommend Joan's obituary to your friends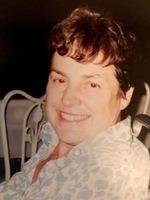 Obituary of Joan S. Constantikes-Agnew
ROCKVILLE, MD
Joan Simons Constantikes-Agnew, 83, of Rockville, MD, beloved wife, mother, grandmother, sister and aunt, died on October 5, 2017.
Born in New York City, she was the eldest daughter of the late Gustave Simons and the late Edna R. Simons. She grew up in Larchmont, NY and Weston, CT, graduated from Staples High School in Westport CT in 1952, and received her B.A. degree in 1956 from Bennington College.
In 1958, she married George D. Constantikes, an attorney in private practice in Westport and they had four daughters, Andrea, Christina, Patricia and Amy Claire. When asked to spell her last name, she often replied, "Think of having children all the time--constant tikes."
During the 44 years Joan lived in Westport, she also had two successful business careers, first in magazine advertising and then in life insurance, enjoying a long relationship with Northwestern Mutual (and achieving NM's Million Dollar Round Table). Within her local neighborhood, Greens Farms, she led a successful effort to ensure that developers of a new shopping center were blocked from constructing a traffic-heavy entrance across from the local elementary school.
She was an avid tennis player and swimmer, and enjoyed playing bridge and taking in Broadway shows. In 2002, she and George moved to Naples FL, and in 2006 they moved to Wake Forest NC. For her 50th Bennington Class Reunion in 2006, she submitted an autobiographical piece in which she noted the effect that her unusual senior project had had on her life. The project involved translating Maxim Gorky's novella Dyetsvo (Childhood) into English and then imagining how Charles Darwin, Karl Marx, Sigmund Freud and James G. Frazer might have analyzed the tale if they had been writing, not as a scientist, political philosopher, psychologist and mythologist, but as creative literary masters, each with his own set of artistic metaphors. "How did this project contribute to my life later on?" she asked in her 50th Reunion piece. "The answer—standards, discipline, style."
Following George's death in 2007, Joan rekindled a romance with her high school and college boyfriend, Bruce Agnew, a political journalist and freelance editor. She and Mr. Agnew married in 2011 and, in 2014, moved to Rockville, MD. They enjoyed semi-retirement with European travel, visits with relatives, romantic dinners, Sunday afternoon trips to Barnes and Noble and spending time with Mr. Agnew's daughter Eleanor and her husband Dale.
She was predeceased by her sister Barbara (Milton) Valenta of Staten Island, NY. Ms. Constantikes-Agnew is survived by her husband of 10 years, Bruce Agnew; four daughters, Andrea J. (Miguel A.) Torres of South Windsor, CT, Christina E. (Piers) Lawrence of New York, NY, Patricia S. (Frank) Colella of Scarsdale, NY and Amy Claire (Scott Wagner) Constantikes of Blacksburg, VA; a stepdaughter, Eleanor (Dale) Kotler of Dickerson, MD; five grandchildren, Alexa and Miguel Torres of Boston, MA and Bloomington, IN, respectively, Katie Colella of Scarsdale, NY, and George and Forrest Tatum of Blacksburg, VA; three sisters, Edna Alvarez of Los Angeles, Gail (Steve) Humphreys of Santa Barbara, CA and Brook (Jay) Dougherty of Pacific Palisades, CA and two brothers, William Simons of Oakland, CA and W. Isaac Simons of Oakland and many nieces and nephews. Joan will be greatly missed by her loved ones and many friends for her intellect, generosity, kindness, and deep loyalty.
A private graveside service will be held on Saturday, November 11, 2017 in Willowbrook Cemetery, 395 Main Street, Westport.
Contributions in her memory may be sent to the American Cancer Society , www.cancer.org/donate or call 1-800-227-2345, or the Casey House of the Montgomery Hospice in Rockville, MD, https://www.montgomeryhospice.org/donate-support/donate-now or call 301-921-4400.
GRAVE LOCATION:
AGNEW FAMILY PLOT Section Old 10, Plot No. 45, Grave No. 4