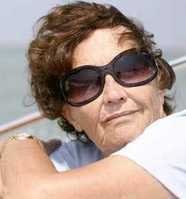 Obituary of Geraldine C. Epstein
WESTPORT, CONN
Mrs. Geraldine "Geri" Connell Epstein died peacefully in New York City on November 10, 2018 at the age of 79.
She is survived by her brother Michael A. Connell and his wife Lucy of Smithtown, NY; her brother Paul Connell, and his wife Julie of Marcola, Oregon; her niece Karen Connell Hess and her husband Rob Hess of Westport, CT; her nephew Michael J. Connell of Del Mar, CA; and her nephew Kevin Connell and his wife Kana Connell of Toronto, Canada. She is preceded in death by her husband David Epstein of Westport, CT and Palm Beach Gardens, FL.

Geri Connell Epstein was born and raised in Queens, New York and earned her Bachelor of Arts and Master of Arts degrees at Hunter College. She worked in the advertising industry and for the New York City Commission for the United Nations.
Mrs. Epstein and her husband moved to Westport, CT more than 30 years ago, and although in recent years they were part-time residents, they remained deeply committed to the Westport community. A co-founder of the David and Geri Epstein Private Foundation, Mrs. Epstein provided college scholarships to Staples High School graduates, supported the construction of the new Levitt Pavilion, and was a sponsor of several Westport non-profit organizations.

A memorial service is scheduled for Saturday, November 17 at 9:30 a.m. at Hoyt-Cognetta / Lesko Funeral Home at 5 East Wall Street in Historic Norwalk, Connecticut.
A private entombment was held here at Willowbrook Cemetery.
CRYPT LOCATION:
Wintergem Mausoleum, Level C, Row 16, Crypt No. 56
A Living Tradition; A Timeless Tribute