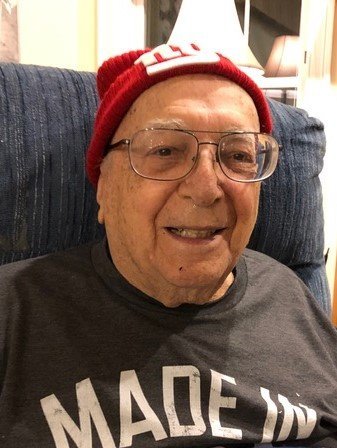 Obituary of Perry Shegirian
New Fairfield, Conn
Perry (a.k.a. Ben, Peniamin) Shegirian, age 95, of New Fairfield, beloved husband of the late Rose (Vartouhi) Abajian Shegirian, passed away on Wednesday, February 6, 2019 in South County Hospital, Wakefield, Rhode Island, surrounded by his loving family. Perry was Mr. Happy, the kindest man and the greatest dad ever. He loved his family and everyone he came in contact with!
He was born on February 5, 1924 in New York, NY and was a son of first generation Armenian immigrants who escaped the Armenian Genocide, the late Parounag Shegerian and Maritza Chahbazian Shegerian. A U.S. Army veteran of World War II, he saw action at Iowa Jima and regaled us with stories from his Army days. As an aspiring radar engineer as an Army soldier, he was based on a Navy ship and was first ashore with Marine protection while setting up ship to shore communications. He graduated from NYU after the service and retired as an electrical engineer from United Technologies Norden Systems after 30+ years.
In 1967, Perry and Rose and their four children, moved from the Bronx to Weston. With their children grown, they again became active in the Holy Ascension Armenian Church, first in Bridgeport and then in Trumbull. Perry chaired the parish council in Trumbull for a two-year term in the 1970's and the building committee which assisted with the move to Trumbull.
Nothing pleased dad more than spending time with his children and grandchildren, whether cheering them on at sports events, helping with homework or eating a great meal together.
Survivors include, four children Roseanne Shegirian and her partner Mike Magee of East Norwalk, Perry Shegirian II and his wife Jacquie of Buckfield, Maine, Marie (Shegirian) Flanagan and her husband Martin of Charlestown, RI, and John Shegirian and his wife Michelle Lea of Old Lyme, four grandsons, John and Joe Flanagan, and Kevork and Ari Shegirian as well as nieces, nephews and cousins. He was predeceased by his only granddaughter, Daisey Anne Shegirian.
Friends may attend the funeral service on Saturday, February 9, 2019 at 11:00 a.m. directly in the Armenian Church of the Holy Ascension, 1460 Huntington Turnpike, Trumbull, CT 06611. Interment will follow in Willowbrook Cemetery, Westport. Relatives and friends may greet the family on Friday from 4 - 7 p.m. in the Armenian Church of the Holy Ascension, 1460 Huntington Turnpike, Trumbull, CT 06611.
In lieu of flowers memorial contributions may be made in memory of Mr. Shegirian to the Armenian Church of the Holy Ascension, 1460 Huntington Turnpike, Trumbull, CT 06611
To send flowers to the family or plant a tree in memory of Perry Shegirian, please visit Tribute Store
INTERMENT
1:00 pm - 1:45 pm
Saturday, February 9, 2019
Willowbrook Cemetery
395 Main Street
Westport, Connecticut, United States
GRAVE LOCATION:
Section 12, Row 5, Grave No. 37
A Living Tradition; A Timeless Tribute