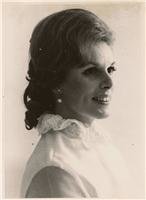 Obituary of Sarah Elizabeth Coss
WESTPORT, CONN.
Sarah Elizabeth Coss (Sallie) passed away peacefully on July 25, 2013, at her home in Westport, CT., her residence for 45 years. The daughter of the late Warren and Helen Pohle Coss of Ashland, Ohio, she was born on July 16, 1936. She was raised in Garden City, NY. A professional singer, she was also a beloved voice teacher, mother and grandmother.

Ms. Coss received her Bachelor and Master of Music degrees from the Eastman School of Music, class of 1959. She was a critically acclaimed opera singer and performed for many years as a principal soprano at the Metropolitan Opera cast in leading roles in DER ROSENKAVALIER, AIDA, THE BARTERED BRIDE, ELEKTRA, DIE WALKURIE, ARABELLA, IL BARBIERE DI SIVIGLIA, NORMA and several others. She appeared as guest soloist with several symphony orchestras nationally and in Fairfield County. Earlier in her career she was a member of the Ray Charles singers on the Perry Como show and was the soprano soloist at St. James' Episcopal Church in New York City.

Ms. Coss is survived by her sons H. Christopher Valante of Westport and Newport, RI and Michael W. Valante along with his wife, Charmian Hall Valante and their daughters Olivia and Katherine, all of Westport. Ms. Coss was formerly married to Dr. Harrison R. Valante. She is predeceased by her two brothers David and Daniel Coss and her sister, Sr. Anne Coss of the Ursuline Sisters of Toledo, Ohio.

A funeral mass was held Wednesday, August 7th at 11am at St. Luke Church in Westport. She was laid to rest November of 2017 in Willowbrook Cemetery, Westport.
Harding's of Westport directed the arrangements.
GRAVE LOCATION:
Section Old 10, Grave No. 83S-1
A Living Tradition; A Timeless Tribute